A drive up Highway 16 through the Capay Valley will take you through these Historic points of interest: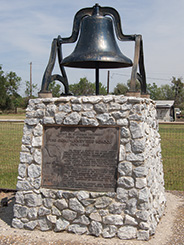 In Esparto, the current version of the "second high school in Yolo County," features an art-deco auditorium built by the WPA in 1939.
At the end of Yolo Avenue–main street Esparto–the 1888 Esparto depot is being restored.
Entering Capay, a memorial plaque and bell from the Capay School can be seen from the highway, in front of its empty lot.
Near the town of Brooks, you can see Canon School, on the left at CR 78, which was built in 1884
The Guinda Store has been in continuous use as a store since it was built in 1891.
Behind the Guinda Store, left up Forrest Avenue, is the Western Yolo Grange Hall built in 1909, originally as a community hall.
In Rumsey, notice the original depot sign on the front of the restored Rumsey Hall on your right, built in 1903
Just past the Rumsey Hall a right turn takes you to the rare and beautiful concrete, arched bridge, originally built in 1930 with additions in 1949
Learn more history at www.greatercapayvalley.org
Legend has it that David Allen Clark rode with the James Gang in the late 1800s – and lived with his family on Salt Creek in the Capay Hills – between today's Capay and Brooks! He would be gone from the Capay Valley for months at a time, leaving his wife Sally to raise their son Noble with his family. He would return, loaded with money, and "hide out," looking nervously around, according to his great granddaughter, Gilda Clark, and then disappear again–eventually for good. 
NOTE: These story and many more can be found in the three books on Capay Valley: Ada Merhoff's "Capay Valley The Land & The People 1846-1900" Betsy Monroe's "The History and Stories of the Capay Valley" and a published article on Ghost towns of Capay Valley by the valley's own Ann Scheuring which can be seen-read at: http://capayvalleyfarmshop.com/blog/farmnews/ghost-towns-of-the-capay-valley/