Hiking
County Road 53 (Forest Road) to Pierce Canyon Falls – Park in Guinda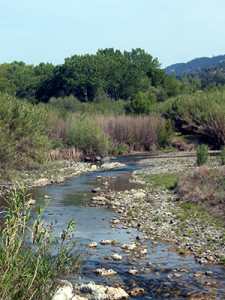 and hike a mile or so up Forest Road past the Corner Store and Guinda Grange to a locked gate. Beyond the gate is private land but the road is public. DO NOT park by the gate & DO stay on the road.
Frog Pond Trail and Blue Ridge Trail both wind upward through wooded canyons starting from the far side of Low Water Bridge (CR 40) in Cache Creek Regional park, about 3 miles beyond Rumsey.
Valley Vista Regional Park The trail can be accessed across the highway from Camp Haswell, just after Rumsey. There is a sign for Valley Vista Regional park at the trailhead. Park on the pullout on the side of the highway. The 4 mile round trip hike winds up the side of the hill, with easy switchbacks cut into the hillside.
Learn more at www.yolohiker.org
River rafting, inner tubing, kayaking:
Cache Canyon River Trips offers one- and two-day rafting/kayaking trips each summer that depart from Rumsey. Details at www.cachecanyon.com.
Individuals can use public put-ins/take-outs at the county parks and the Rumsey Bridge, just off Hwy 16. Upper stretches of the river are mainly Class II with at least one Class III rapid. A Class I run starts at Rumsey Bridge and continues to Will Baker Park in Guinda.
Details of the whitewater stretch can be found at http://www.cacreeks.com/cache.htm
River access, picnicking, camping:
Esparto Community Park – picnic
tables, BBQ, restrooms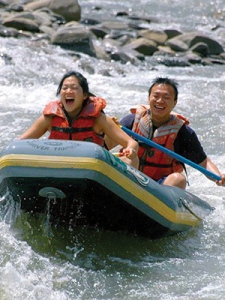 Capay Open Space Park – – Just north of Cache Creek on Rd. 85 in Capay
Vernon A. Nichols County Park on Road 57 in Guinda – picnic tables, BBQ, swimming, fishing, playground, toilets, baseball field & the Will Baker Garden
Camp Haswell – 2.2 miles north of Rumsey – Picnic area, haul-out for kayakers & rafters, old stone Boy Scout Cabin
Cache Creek Canyon Regional Park – River access over several miles starting three miles north of Rumsey. Three turn-offs to swimming & picnic tables; camping in riverside park with playground, store & beach. Check online for camping info, reservations.
Wildlife Viewings:
Audubon bird watchers come to the Historic Rumsey Bridge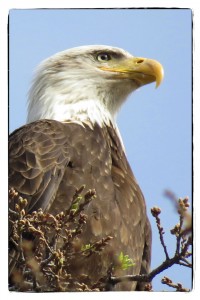 every winter to view migrating waterfowl and magnificent birds of prey such as the Bald Eagle.