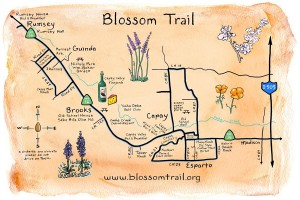 Last Sunday in February – Esparto Chamber of Commerce Festival Page
The Capay Valley Almond Festival began in 1915 and has been a Northern California tradition.The only five town event in Northern California, the festival is a showcase of the Esparto/Capay Valley Region.It began in the fall after the harvest and moved years later to the spring, in order to show off the lovely blossoms.
The Almond Tree is the most mysterious nut tree and is mentioned in the bible in the book of Numbers 17:8. Its crop is very valuable to our state and California is the only place in North America that grows almonds commercially. A $2 billion industry, more than 6,000 growers devote an estimated 530,000 acres in the Central Valley to almonds — California's largest tree nut crop — in a stretch of land extending from below Bakersfield in the south to Red Bluff in the north. For more information about almonds and recipes go to www.almonds.com.
The Capay Valley Almond Festival is held in the towns of Esparto, Capay, Brooks, Guinda and Rumsey. Entertainment, crafts, good food and fun for all members of the family are provided. It is a wonderful time to see the beauty of the whole Capay Valley and to meet many of the wonderful people who live and work in the area.
Vendors: Please contact the Esparto Chamber of Commerce for information on vending at this festival. We are looking for crafters, produce, food vendors, and regional products. Applications are accepted in January.
Phone: 530-787-3242 Email: info@espartoregionalchamber.com